Research, Integration, Strategies and Evaluation (RISE) for Boys and Men of Color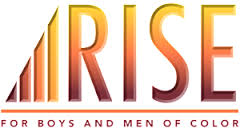 Community‐based organizations, educational institutions, and other entities have launched hundreds of initiatives across the U.S. focused on boys and men of color. Foundations have invested considerably in these initiatives, research studies, and evaluation projects. Despite this, life experiences and outcomes among boys and men of color remain largely unchanged; in some instances, they have worsened over time.
RISE for Boys and Men of Color is a $8 million field advancement effort that aims to better understand and strategically improve the lives, experiences, and outcomes of boys and men of color in the United States. RISE spans five fields (education, health, human services and social policy, juvenile and criminal justice, and workforce development) and focuses on four populations (Asian Americans and Pacific Islanders, Blacks, Latinos, and Native Americans). RISE BMOC is a project co-led by Equal Measure, a national nonprofit evaluation and philanthropic services firm, and the University of Southern California (USC), Rossier School of Education, USC Race and Equity Center. Support for this project was provided by generous funding from The Atlantic Philanthropies, The Annie E. Casey Foundation, Marguerite Casey Foundation, The W.K. Kellogg Foundation, and members of the Executives' Alliance to Expand Opportunities for Boys and Men of Color.
RISE Capacity Building Grantmaking Award
The RISE team and advisory board members have approved strategic grant investments in eight U.S. cities to further our goal to build capacity in research and evaluation that expands knowledge about programs having an impact on boys and men of color.
RISE Field Scans
A central component of the RISE program is supporting the exploration of nontraditional and unpublished work that highlights promising policies and practices. Below are links to eight field scans produced by RISE that each incorporate comprehensive reviews of existing literature, intervention approaches, recommendations, and "grey literature." Learn more about the RISE Field Scans in this blog post featuring Howard Walters, a Program and Evaluation Officer at the W.K. Kellogg Foundation and Martena Reed, Research Associate at the Annie E. Casey Foundation.