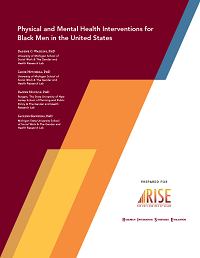 Title: Physical and Mental Health Interventions for Black Men in the United States
Affiliation: The University of Michigan
Project Lead: Daphne C. Watkins, PhD, University of Michigan School of Social Work & The Gender and Health Research Lab
Project Team: Jamie Mitchell, PhD, University of Michigan School of Social Work & The Gender and Health Research Lab; Dawne Mouzon, PhD, Rutgers, The State University of New Jersey School of Planning and Public Policy & The Gender and Health Research Lab; Jaclynn Hawkins, PhD, Michigan State University School of Social Work & The Gender and Health Research Lab
---
Project Summary: The authors review the physical and mental health interventions for black men in the United States, with an aim to inform the knowledge needed to develop culturally sensitive and gender-specific health interventions for those individuals. This field scan also provides an important basis for policy decisions regarding physical and mental health services, and in designing interventions that will be most effective for subgroups of black men.
Project Recommendations: 
Expound on the services black men currently utilize. Future efforts should focus on bringing black men into the decision-making process (across all physical and mental health conditions), soliciting their specific preferences and concerns, and providing healthcare navigation services as needed to coordinate care and overcome material and economic barriers to treatment adherence.
Give vulnerable sub-groups specialized attention. More specialized programs and services could be offered through agencies that are intentional about how they target black men (e.g., services offered through religious groups, sports groups, and fraternities for their black male members).
Account for gender role adherence. Develop program components in the context of gender role adherence, which considers how closely black men adhere to certain gender roles and norms because of their interpretation of gender presentations, actions, and traits.
Account for intersectionality. Clinicians should collaborate more effectively to track disease literacy and risk among younger black men so that more effective interventions can be developed to direct those men into care settings before undiagnosed diseases progressed into more serious sequelae.
Improve staff training. Our field scan suggests that it is important for staff to be well-trained (and in some cases, certified) in some physical and mental health service professions and disciplines (i.e., counseling, social work, and psychology) that work directly with black men. Whether staffed by men or women, gender-sensitive training is also imperative for successful physical and mental health programs geared toward black men. Finally, we noticed that when program staff members were from the communities where black men resided, this resulted in more successful program outcomes.
Involve more black men in interventions. It is important for younger men to see charismatic men of color leading health promotion programs and services. Similarly, programs developed and delivered by black men are important to the success of the programs. This kind of peer-mentoring and peer-group facilitation encourages black men to work toward getting better and offers them the opportunity to help someone else.
Use innovative styles and approaches that work. Using survivors of health conditions (e.g., cancer, depression, trauma, etc.) to advocate for health screening proved to be a powerful tool in disseminating information to black men, along with adding an important element of cultural familiarity.
Modify the intervention setting. From our field scan, we found that programs and services geographically positioned within the communities/neighborhoods where black men reside work best. Geographically positioning programs and delivering services in the communities and neighborhoods where black men reside make accessing these programs and services easier for them.
Leverage social media and technology. Efforts should include online social support as a means of coping with traumatic experiences and as a preliminary step toward helping black men maintain physical and mental health. Black men may be more inclined to seek help for their mental health conditions if they first explore their emotions through a medium with which they feel comfortable, such as the Internet.
Consider a lifecourse approach for work with black men. Researchers should use a life course approach to gain a better understanding of the multilevel factors that influence physical and mental health outcomes for black men as they age.