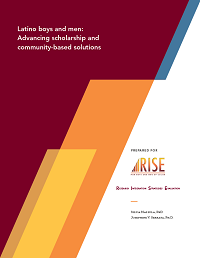 Title: The Latino Boys and Men: Advancing Scholarship and Community-based Solutions
Affiliation: John Jay College of Criminal Justice
Project Lead: Silvia L. Mazzula, PhD
Project Team: Josephine V. Serrata, PhD, National Latin@ Network for Healthy Families and Communities
---
Project Summary: The authors address systemic limitations on understanding the state of the field by using an interdisciplinary and comprehensive approach to identify community-based solutions with Latino men and boys that may not be included in academic literature. They review mainstream academic knowledge, as well as knowledge from community-based initiatives with Latino boys and men in the area of healthy masculinity.
Project Recommendations:
Increase research, evaluation, and academic publications that prioritize approaches that center voices of participants, that is, of Latino men and boys, as well as GBTQ Latinos, to identify promising approaches and their challenges and opportunities.
Future research and academic publications should define the terms "Latino" or "Hispanic" when discussing people of Latinx origin in general, and Latino boys and men specifically, as well as any other racial cultural term.
Increase number of academic publications, research studies, and evaluation efforts that attend to within group differences (e.g., ethnic background, generation status, immigration status, etc.).
Increase research efforts that highlight the use of subgroup analysis technique to capture intersectional identities. For example, when publishing research studies, move away from reporting participant's racial-cultural characteristics in simple general terms such as "Latino"/"Hispanic." Researchers and scholars should provide at a minimum at least one other racial-cultural identifier (e.g., language, generation status, nativity, etc.).
Increase number of academic publications, research, and evaluation efforts that incorporate the psychological understanding of participants' racial cultural identities (e.g., racial identity, ethnic identity, acculturation level, etc.).
Increase number of publications that establish the cultural appropriateness of existing tools and measures used in the field by conducting psychometric validation studies. These should also be disseminated to community-based programs.
Increase number of research studies and academic publications that examine cultural adaptations for underrepresented groups. Funding for these studies should be coupled with evaluation efforts that evaluate ground-up strategies like the ones found in this scan.
Promote the utilization of approaches and frameworks that are culturally specific, strength based, and community grounded. For example, the use of the community-centered evidence based practice (CCEBP) (Serrata et al. 2017) approach centralizes the expertise of community-based practitioners, a profound source of expertise that is often overlooked in academic literature but is key to community-based approaches.
Increase academic publications that examine the efficacy and replicability of culturally specific, strength-based, and community-based programs, particularly those identified by this scan such as peer-to-peer models, the development of critical consciousness as a tool for change, collective and cultural healing, etc.
Future funding initiatives should include RFPs that fund evaluation of culturally specific and community-based work. Specifically, funding streams that build the evaluation capacity of community-based organizations to document evidence that is self guided and not externally imposed.
Future research studies that "scale up" the programs identified in this scan, in addition to multisite evaluations to build the evidence based, would be extremely beneficial. For example, the program Hombres Unidos has been adapted and implemented in various sites, however, an evaluation tracking its impact across various sites continues to be missing.
In order to deconstruct the silos that exist across the larger field of working with men and boys, a national entity should organize a roundtable or conference to bring practitioners together, especially practitioners in small community organizations working with immigrant and refugee populations to share lessons learned, as well as develop an overarching framework that reflects work that is being done across organizations. For example, several organizations came together to define culturally specific principles that connect their work across organizations: http://nationallatinonetwork.org/enhancing-community-evidence/cultural-specific-principles. Such an effort would be beneficial for researchers and practitioners alike.
A particular limitation is the amount of work that is being done with GBTQ Latinos, and our knowledge is limited in scope, thus expanding funding on GBTQ approaches to working with men, and expanding the research on healthy sexuality and how this intersects with healthy masculinity would be tremendously helpful. Academic publications should also include gender-related variables, especially those related to healthy masculinity, to better understand the experiences of Latino men and boys.
Expand evaluation work and research studies to include programs that are doing international work due to the transnational life experiences of many immigrant Latino men and boys.
Increase research on preventions and interventions with people of Color as its core. Move away from studies that juxtapose and compare European White Americans to Americans of Color and that frame research using "Western" or European standards as the norm. This type of research may allow for a more fruitful examination of within group differences and move away from universal theories to understand the lives of minority populations—a significant limitation to the academic literature to date.
Partner evaluators of Color, allies who have experience working with communities of Color and/or academic researchers who are culturally competent with community-based organizations so they can work together to add to the production of knowledge and fields of knowledge in their many forms, academic and non-academic.
Increase training of evaluators who understand community-driven solutions and create a pipeline program to support the training of evaluators of Color with expertise in culturally specific community-based evaluations.
Create new tools and measures that capture community-centric and cultural-specific approaches that community-based programs can utilize to evaluate their programs.
Increase efforts to develop systematic guidelines to assist journal editors and editorial boards to enforce APA guidelines on adequate reporting of sample characteristics in academic publications.
Create new tools and measures that capture culturally relevant and cultural-specific approaches to conducting research that researchers can use to evaluate their studies and future academic manuscripts. For example, the culturally relevant research framework to understand the state of the literature used in this scan has documented inclusion criteria for racial ethnic minority populations, and recommendations for incorporating identity (e.g., racial identity, ethnic identity, etc.) (Mazzula 2015).
Lastly, conduct a review of academic publications every five years as previously recommended by other scholars (Arredondo et al. 2005; Mazzula 2015).