STEM Active Learning Vignette Series: Weaving More Effective Teaching and Learning Practices in Mathematics and Beyond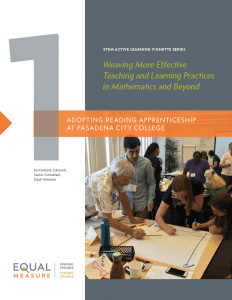 Since beginning active grantmaking in 2008, the Leona M. and Harry B. Helmsley Charitable Trust has committed more than $1.5 billion dollars to nonprofits and other mission-aligned organizations in the United States and around the world. Although no longer a focus for the Trust, from 2008-2016 the Trust's postsecondary education grantmaking focused on increasing the number of college graduates in science, technology, engineering, and math (STEM) fields — particularly female students and students of color.
The Trust's postsecondary grantmaking portfolio supported networks of higher education institutions committed to improving instructional practices, primarily for gateway STEM courses, and creating incentives to adopt model policies, practices, and systems that can help improve student retention and completion. Each network adopted one or more "active learning strategies," evidence-based teaching and learning approaches that can improve students' performance in STEM. While the Helmsley Charitable Trust's investment has concluded, most of the networks continue to move forward with implementing these strategies.
As the STEM Active Learning Networks evaluation and learning partner, Equal Measure is tracking the impact of the Helmsley Charitable Trust's postsecondary grantmaking on faculty, departmental, and institutional change across networks. Since 2014, Equal Measure has used qualitative research methods to examine the results of network efforts as well as conditions that support progress at the educator, department, and institution levels. In 2017, Equal Measure visited five campuses representing four of the initial seven networks to delve into site-level implementation. The first in a series, this vignette showcases the efforts of Pasadena Community College to develop and implement more effective pedagogies for mathematics and related STEM courses.
Supporting Resilience: Building Resilient Communities through Enhanced Student Supports
In 2012, seven community colleges in the Northeast region of the United States came together to discuss the acute need for resilience in their communities in the wake of several natural and man-made disasters, including the shooting at Sandy Hook Elementary School and two hurricanes. These seven colleges formed the Northeast Resiliency Consortium (NRC), led by Passaic County Community College, to develop and implement programming and services that would help build resilience in students and communities, and generate a highly skilled workforce.
Included in this report, developed in partnership with DVP-PRAXIS LTD, is a summary of recent research in the area of support services and student success in community colleges, a description of the way in which NRC colleges deliver resiliency support services to participants, and best practices in NRC colleges' approaches to resiliency support services.
Key Insights into Talent Attraction and Retention Efforts in Philadelphia
Philadelphia's population has grown by 100,000 since 2006. Simultaneously, local organizations and entrepreneurs have experienced difficulty in finding workers with the necessary skills to fill open positions. Viewed through multiple lenses, talent attraction and retention has economic, community-vitality, and civic-level implications. In light of this, over the last decade Philadelphia has targeted talent attraction and retention as a key factor in strengthening community capacity, and empowering the regional economy.
Case-Informed Lessons for Scaling Innovation at Community and Technical Colleges
In this report, co-authored with DVP-PRAXIS LTD, we discuss the Achieving the Dream Catalyst Fund initiative to help four community colleges scale an innovative practice to serve most of their students. We review our evaluation findings, and offer illustrative examples of the key factors that appear necessary to achieve scale. In addition, we offer recommendations for colleges and other stakeholders that wish to scale innovation – and transform their organizational culture – in service of student success and the college completion agenda.
Sustaining the Career Advancement Academies
In this Report, Equal Measure examines the factors influencing how and to what extent six colleges are working to sustain their Career Advancement Academy (CAA) programs. We describe factors influencing institutionalization and sustainability, and offer lessons for the field. We also provide detailed case studies of the six featured CAA colleges.
Report-in-Brief: Public Benefits and Community Colleges: Lessons from the Benefits Access for College Completion Demonstration
Final Evaluation Report: Public Benefits and Community Colleges: Lessons from the Benefits Access for College Completion Demonstration
This Final Evaluation Report provides the lessons learned from the Benefits Access for College Completion (BACC) demonstration project at five community colleges. BACC represented a collaborative multi-year investment from several philanthropic organizations to demonstrate how student supports from public human services programs could help address the college completion agenda.  Our Report helps answer the overarching evaluation question posed by the funders: What are the most promising models for community colleges to increase benefits access for their students, and how can these models be integrated into community college operations?
Building Community Partnerships in Support of a Postsecondary Completion Agenda
In this Report, the OMG Center highlights key lessons from the Bill & Melinda Gates Foundation's Community Partnerships portfolio evaluation.  We assess the communities' progress over the course of the investment, and describe their work in the areas of building public commitment, using data, building and sustaining partnerships, and aligning policies and practices.  We also discuss steps these communities can take to sustain their initiatives.