Exploring Alternative High School and Community College Partnerships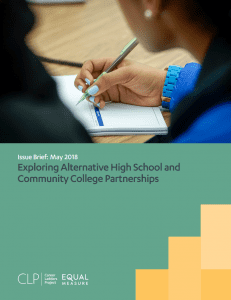 This Issue Brief, collaboratively produced by Career Ladders Project (CLP) and Equal Measure, provides a candid look at the practices and operational realities of supporting opportunity youth and alternative high school students in preparation for college and the workplace. The content is based on the proceedings of a day-long community of practice meeting held in May 2017, "Exploring and Expanding Alternative High School and Community College Partnerships." Nearly 50 practitioners from California community colleges, high schools, and community-based organizations came together to learn about and receive feedback on emerging practices and to exchange implementation ideas. In addition to the insights gathered during the meeting, the implementation realities presented in this Brief draw from a literature review as well as 18 in-depth interviews with alternative high school and community college leaders, and community partners, who represent newly established partnerships or multiyear collaborations of alternative high school and community colleges.  The intent of this Brief is twofold:
To present a conceptual framework to help practitioners, administrators, and others understand what constitutes high-quality transitions from alternative high school to community college; and

To elevate emerging practices and common implementation considerations for efforts designed to meet the unique skills and needs of alternative high school students as they transition between alternative high schools into community college and careers.
Hopefully, this Brief spurs a deeper conversation among those who are vested in the educational and career success of the 800,000 opportunity youth in California and the 300,000 students enrolled in nearly 1,000 alternative schools. It is also hoped that this Brief will nurture a sustained effort among practitioners, teachers, faculty, administrators, and leaders across California who are committed to working through the complex collaborative solutions for fostering academic success for opportunity youth and alternative high school students.
▲▼▲
Creating Opportunity for All: Building Pathways from Continuing Education to Credit Programs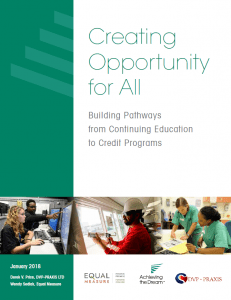 Achieving the Dream and the seven colleges in the Northeast Resiliency Consortium (NRC) have developed a resiliency competency model important to the success of students as they exit college, get their first job or change to a new job. A pioneer in the concept of workforce resiliency, the NRC defines resiliency as an individual's persistent development and application of knowledge, skills, and resources that effectively help one adapt to change and overcome adversity. The model was developed using multiple methods of systematic collection and processing of feedback from students, faculty, staff, administration, employers, and industry groups. Competencies have been integrated into courses as diverse as algebra, IT, and student success.
One important challenge the Northeast Resiliency Consortium colleges took on was aligning continuing education and credit programs along a career pathway to meet student and labor market needs. This brief describes how the colleges made adjustments to articulate non-credit to credit credentials to ensure strong career pathways for students who start on the non-credit ramp.

As a result, the colleges are now providing students with stacked credentials, ensuring prior learning and experience is accounted for within pathways, and are formally recognizing key milestones with credentials. All in all, the colleges smoothed the way for students to work toward an associate degree even if they began their studies in a non-credit program.
The results of this work are promising. As you will learn in this issue brief, according to the Northeast Resiliency Consortium Final Evaluation Report, a higher percentage of students enrolled in continuing education to credit pathways banked or earned credits, transitioned to credit-based programs, and gained and were retained in employment than a matched comparison group who did not enroll in these pathways. Equal Measure and DVP-PRAXIS collaborated on the evaluation of the Northeast Resiliency Consortium.
▲▼▲
From Contractors to Conduits: An Exploratory Dialogue among Funders and Evaluators
On June 2, 2017, in Chicago, IL, 27 funders and evaluators from across the country met to discuss the current state of evaluation and learning in philanthropy, explore barriers to greater collaboration and impact, and identify approaches and strategies designed to build the collective capacity of small and mid-sized evaluation firms.
The meeting launched the exploration of three main concerns:
Learning and evaluation in philanthropy is changing.
There are Concerns about the usefulness and influence of evaluation.
Building the evaluation field's capacity will require new levels of partnership.
In this Issue Brief, we showcase how participants discussed these challenges, and what they identified can be done individually and collectively to influence the factors shaping these issues and improve the overall environment for evaluation and learning in philanthropy.
Engaging Employers in a Cross-sector Postsecondary Attainment Agenda: Lessons from Lumina Foundation's Community Partnership for Attainment Initiative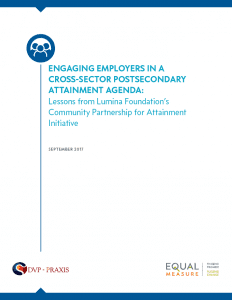 Launched in 2013, Lumina Foundation's Community Partnership for Attainment (CPA) initiative aimed to deepen the impact of cross-sector, place-based efforts to increase higher education attainment in communities and cities across the country. Lumina's mission is to expand access and success in education beyond high school, particularly among adults, first-generation college students, low-income students, and students of color. This mission is directed toward achieving Goal 2025 – "to increase the proportion of Americans with high-quality postsecondary degrees and credentials to 60 percent by the year 2025."
In this Brief, we describe why employers are important to community attainment initiatives, and explore considerations for communities who seek to authentically engage employers in these efforts. Employers often play unique roles to support and pursue strategies for improving postsecondary attainment, along with community partners such as public education, higher education, government, and community based organizations. We discuss how to effectively and authentically engage employers in this work, the unique ways that employers contribute to postsecondary attainment initiatives, and how they fit with the collective efforts underway.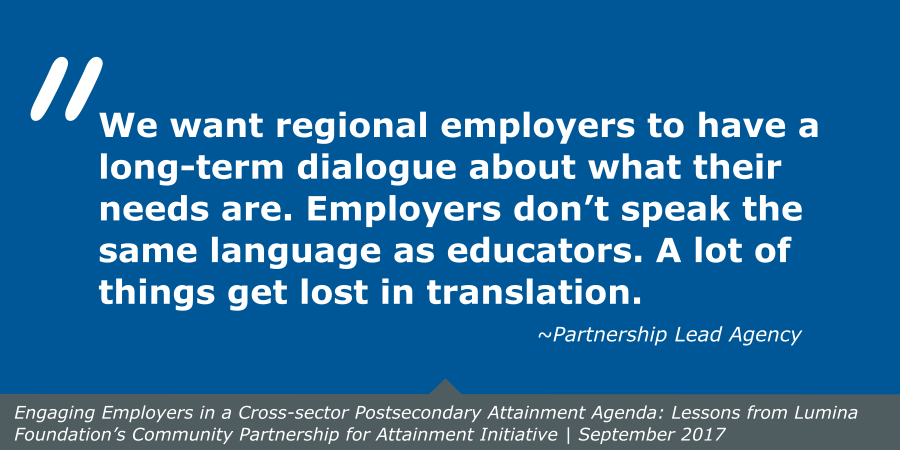 Advancing Careers and Training (ACT) for Healthcare Through Student Support Services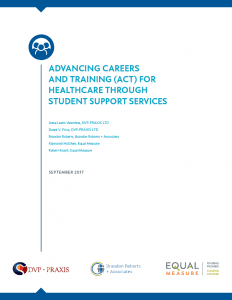 In 2014, 16 colleges from the Wisconsin Technical College System (WTCS) embarked on a project to develop, improve, and expand adult education and training for healthcare-related occupations. Like many other states across the country, Wisconsin experienced tremendous growth in the healthcare industry over the last 20 years, driven in part by an aging population and associated healthcare needs.
Demand for healthcare workers in Wisconsin continues to grow, with jobs projected to increase to nearly 437,000 by 2024, representing a faster 10-year growth rate (13.5 percent) than any other major Wisconsin industry. A key strategy pursued by ACT for Healthcare colleges – and the focus of this Issue Brief – is the delivery of various support services to improve healthcare students' success in completing industry-recognized credentials in Nursing, Medical Assistant, Gerontology, and other high-demand fields.
The information we present in this Brief is based on qualitative and quantitative data collected on student support services, as part of the third-party evaluation of the ACT for Healthcare initiative. As part of these data collection efforts, we conducted site visits in 2016 to 15 colleges, 3 facilitating in-person interviews and focus groups with key ACT for Healthcare support services staff, project leaders, faculty, and administrators.
This Issue Brief is structured as follows:
Section 1: An overview of national research on support services and student success, with a focus on technical and community colleges.
Section 2: A typology of the various supports offered at ACT for Healthcare colleges, providing a description of each approach, and presenting examples from various colleges to highlight promising practices.
Conclusion: A summary and overview of next steps for the evaluation.
Cultivating Systems Leadership in Cross-sector Partnerships: Lessons from the Linked Learning Regional Hubs of Excellence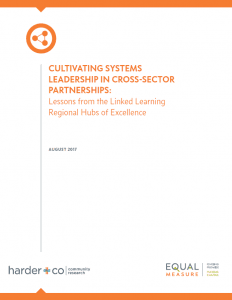 Investments in the social sector have become increasingly complex, with many foundations shifting from supports for single organizations toward more systemic strategies focused on improving outcomes for entire communities. As a result, the field has become awash in regional, or place-based, investments that rely on cross-sector partnerships and networks to drive change. These efforts require coordination among stakeholders across all levels of the practice and policy continuum – from direct service providers, to nonprofit intermediaries, funders, advocacy organizations, and policymakers.
It is in this context, and in the spirit of continuous learning, that The James Irvine Foundation's Linked Learning Regional Hubs of Excellence investment serves as a systems change experiment, offering insights and critical lessons that can inform others undertaking similar work. The aim of this Issue Brief – authored by Equal Measure and Harder+Company – is to contribute to field dialogue and learning about the role of leadership in complex systems change strategies, particularly those focused on producing equitable impacts in college and career readiness.
Equal Measure and Harder+Company serve as the evaluators of The James Irvine Foundation's Linked Learning Regional Hubs of Excellence. They work in partnership with Jobs for the Future, the intermediary and technical assistance provider for this initiative.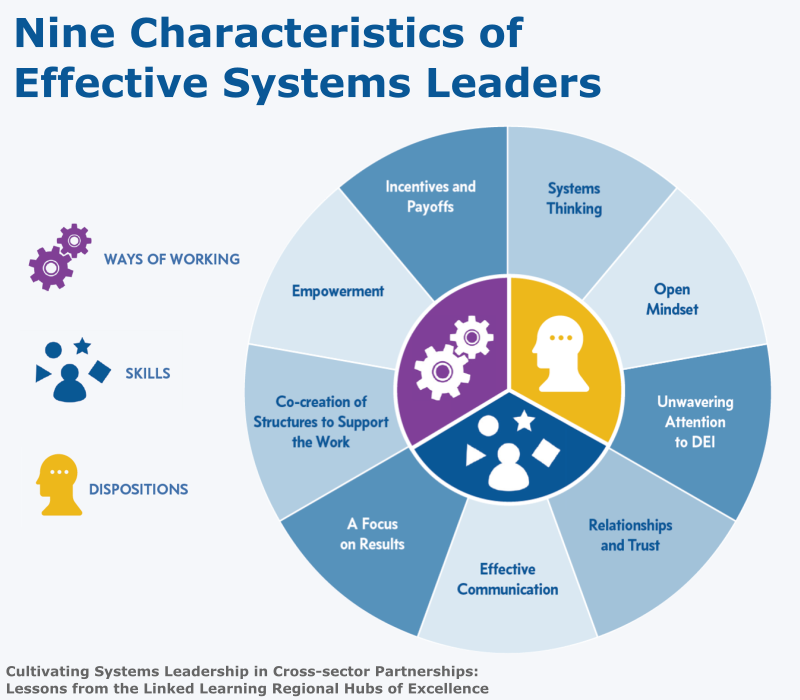 Pathways to Progress: A Tangible Impact on Youth Economic Opportunity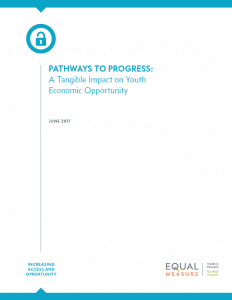 In 2014, the Citi Foundation launched Pathways to Progress, a three-year, $50 million initiative in the U.S. to help 100,000 low-income youth, ages 16 to 24, develop the workplace skills and leadership experience needed to compete in a 21st Century economy.
To achieve its ambitious goal, the Foundation enacted a multi-tiered strategy focused primarily in ten cities: Boston, Chicago, Dallas, Los Angeles, Miami, New York City, Newark, St. Louis, San Francisco, and Washington, D.C. The strategy included an investment in five flagship organizations representing different program "pathways" designed to have a longstanding impact on a youth's economic well-being, presented in Figure 1. Complementing the flagship organizations, the Citi Foundation also invested in national and local organizations as part of Pathways to Progress, including the Boys & Girls Clubs of America, the National Academy Foundation, and the National Association for Urban Debate Leagues.
This Issue Brief is the fourth and final in the Pathways to Progress series. In this Brief, we focus on the impact of the five flagship Pathways to Progress grantees on the youth they have served, and provide a retrospective look at the progress and select lessons from the first three years of the investment.
Incorporating Diversity, Equity, and Inclusion in a Cross-Sector Postsecondary Attainment Agenda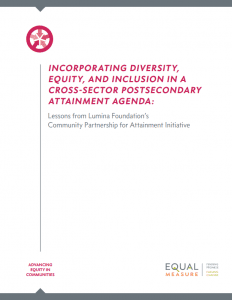 Launched in 2013, Lumina Foundation's Community Partnership for Attainment (CPA) initiative aimed to deepen the impact of cross-sector, place-based efforts to increase higher education attainment in communities and cities across the country. The goal of the 75-city CPA initiative was to strengthen place-based, cross-sector attainment efforts while better integrating the organizations working on them, and the knowledge gained from them. The investment combined grant support, technical assistance from a cadre of national experts experienced in community collaboration and postsecondary attainment strategies, a cohort model for grantee learning, and communications support to increase the visibility and impact of communities' work.
The CPA investment prioritized three pillars:
Partnership Health. Community partners must work collaboratively to set and achieve common goals, use agreed-upon accountability tools and measures, and use data to make decisions about program direction and design.
Equity. Communities need to identify and develop action plans to address chronic attainment gaps between populations, particularly between racial and ethnic groups.
Attainment. Communities must address both access and success for students, with the ultimate objective of increased postsecondary completion.
This Issue Brief focuses on the second CPA pillar – Equity. In this Brief, we discuss how CPA communities have interpreted this pillar, describe how they have applied this principle to influence their partnership and attainment efforts, and discuss what other communities, funders, educators, and community-change stakeholders can learn from their experiences. We draw from data collected through interviews with representatives from all 75 communities shortly after receiving CPA funding, visits to 14 communities, and followup interviews with 10 communities focused specifically on the principles of diversity, equity, and inclusion.