Advancing Careers and Training (ACT) for Healthcare Through Student Support Services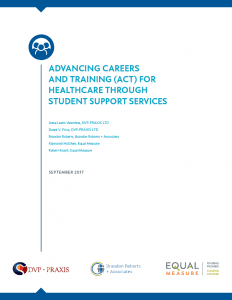 In 2014, 16 colleges from the Wisconsin Technical College System (WTCS) embarked on a project to develop, improve, and expand adult education and training for healthcare-related occupations. Like many other states across the country, Wisconsin experienced tremendous growth in the healthcare industry over the last 20 years, driven in part by an aging population and associated healthcare needs.
Demand for healthcare workers in Wisconsin continues to grow, with jobs projected to increase to nearly 437,000 by 2024, representing a faster 10-year growth rate (13.5 percent) than any other major Wisconsin industry. A key strategy pursued by ACT for Healthcare colleges – and the focus of this Issue Brief – is the delivery of various support services to improve healthcare students' success in completing industry-recognized credentials in Nursing, Medical Assistant, Gerontology, and other high-demand fields.
The information we present in this Brief is based on qualitative and quantitative data collected on student support services, as part of the third-party evaluation of the ACT for Healthcare initiative. As part of these data collection efforts, we conducted site visits in 2016 to 15 colleges, 3 facilitating in-person interviews and focus groups with key ACT for Healthcare support services staff, project leaders, faculty, and administrators.
This Issue Brief is structured as follows:
Section 1: An overview of national research on support services and student success, with a focus on technical and community colleges.
Section 2: A typology of the various supports offered at ACT for Healthcare colleges, providing a description of each approach, and presenting examples from various colleges to highlight promising practices.
Conclusion: A summary and overview of next steps for the evaluation.
Recent Issue Briefs
View all Issue Briefs