Within the biomedical sciences and research, there still exists a mistaken belief that under-represented individuals and groups receive special advantages or considerations in finding jobs, achieving promotions or tenure, receiving grants, and repaying student loans, compared to those who are well-represented. According to the National Institutes of Health, under-represented groups in the biomedical sciences include various racial and ethnic groups (American Indian/Alaska Native, Black, non-Hispanic/Latino, and Hispanic/Latino), people with disabilities, people from disadvantaged backgrounds, and women.
Unfortunately, the myth of special considerations for the under-represented continues, despite convincing evidence to the contrary. As a Ph.D. trained in clinical and community psychology who works in an academic medicine setting, here are several statistics from my own professional experience:
The American Psychological Association Doctorate Employment Survey found that of the 1,246 individuals earning doctoral psychology degrees in 2009, 74% were White, 5.4% were Black, 5.3% were Hispanic/Latino, 7.0% were Asian, .16% were American Indian, .08% were Pacific Islander, 4.0% were multi-racial, 1.4% were of another racial/ethnic background, and 2.2% were of an unspecified racial/ethnic background.
At my own institution, the Yale School of Medicine, only 1% of full professors, 2.5% of associate professors, and 4.4% of assistant professors are Black. All the Black faculty with senior ranks are men, whereas women have greater representation in the other ranks.
These data very much frighten me, sometimes discourage me, and most of the time motivate me. And they are the reason I applied to the RWJF New Connections program. As I approach my review for reappointment as an associate professor, and hopefully for full professor in a few years, I know it will be a difficult road that requires hard work, persistence, and tremendous sacrifice. For racial and ethnic minorities, and for women, that road becomes even more difficult as one moves up the academic ladder, and the experience can be isolating. For instance, there are no professors who are Black women at the Yale School of Medicine and, as a result, there are no "trailblazers" to whom I can talk, from whom I can learn, or whose path I can follow. I connect with other women and men, regardless of their race or ethnicity, but there is always some comfort in seeing others who are like you in the positions to which you aspire. Given this environment, the New Connections workshops, professional development webinars, and publication support have been extremely helpful, and I have used these resources to advance my research as well as other areas of my work.
I also applied to New Connections because it was an opportunity to think differently about myself professionally. As I reviewed the application materials, I could hardly believe that I would be considered a Midcareer Consultant (scholars who have 10-15 years of research or evaluation experience).  I realized that I had accomplished a lot, and New Connections has allowed me to reflect on my two decades of research in children's exposure to psychological trauma and what I have learned that informs policy and practice. The program has built my confidence in so many ways.  It has allowed me to engage in professional activities (e.g., writing op-eds and white papers) that I have always wanted to do, but needed the "green light" and support and tools to do them.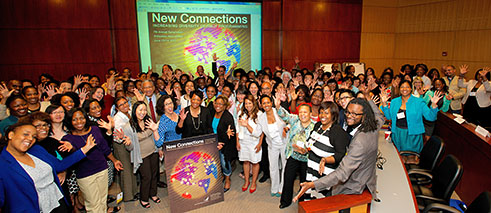 New Connections also forced me to mature a bit, and to push myself in uncomfortable, but necessary ways, such as becoming a thought leader by disseminating my research and ideas related to the impact of psychological trauma to outlets other than peer-reviewed journals. New Connections was the impetus for my application to the Public Voices Fellowship, sponsored by the Yale Women Faculty Forum, which allows women and under-represented minority scholars to work with top journalists from The OpEd Project.  The Fellowship provides me the tools necessary to enter the public domain. Last Fall, through this project, I authored an op-ed on historical trauma and the movie "12 Years a Slave."
As I reflect on my New Connections experience, I consider myself very fortunate to have had exposure to numerous resources that will aid me in my academic career. In addition, my interaction with peers from under-represented populations provided me with insights and inspiration, and the realization that I am not alone on my journey.  I hope to be in a position to impart this knowledge to my own colleagues in academia – today and in the future.